Starbucks in Indonesia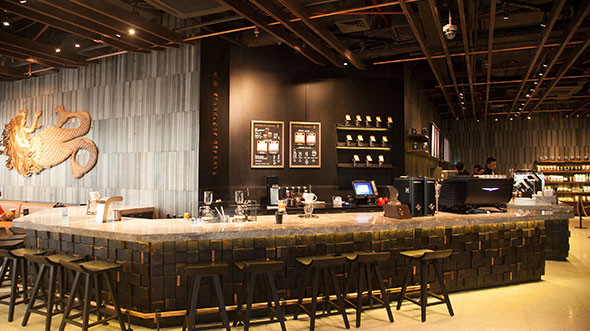 Starbucks Coffee Indonesia opened its first store in Plaza Indonesia, 17 May 2002. As of January 2018, Starbucks Coffee Indonesia is now in 326 different locations all around major cities (22 cities), connecting to Indonesians one cup at a time.
Back home in our tasting room, we take these amazing coffees and mix them with beans from other regions. That's how we create some of our most famous blends, like Starbucks® Pike Place Roast. We love all of these single-origin coffees and blends. More than that, we love to share our passion. So each day we feature one of these outstanding brewed coffees for you to enjoy.
Timeline for Starbucks Coffee® Indonesia
| | |
| --- | --- |
| 2002 | Starbucks open its first store in Plaza Indonesia, Jakarta and its first flagship in Plaza Senayan, Jakarta. The first store in Surabaya was also opened at Tunjungan Plaza 4. |
| 2003 | Starbucks opened its first airport store in Indonesia at the Soekarno-Hatta Airport, Cengkareng and the first Bali store at Hard Rock Hotel Bali. |
| 2004 | Starbucks opened its first 24-hour store in Skyline Building Thamrin. As part of its commitment to continue to innovate, Starbucks introduced WiFi to the store for the first time. Starbucks also opened its first store in Sumatra at Sun Plaza Medan and conducted the first Coffee Ambassador Competition |
| 2005 | Starbucks opened its first drive-thru store in Southeast Asia at KM 19 Cikampek |
| 2006 | Starbucks conducted the 2nd Coffee Ambassador Competition and opened its store in Margo City Depok and Botani Square Bogor |
| 2007 | Starbucks opened its fourth store in Surabaya, which is at Tunjungan Plaza 3 and the fourth store in Bandung at Mal Paris van Java Mal. The first store in Yogyakarta was also opened at the Ambarukmo Plaza. The second drive-thru service was opened at KM 13.5, Serpong. |
| 2008 | At the beginning of January, Starbucks opened its 61st store at Pacific Place. |
| 2009 | Starbucks opened its Terminal 3 – Soekarno Hatta Airport store and the first store in Balikpapan. |
| 2010 | Starbucks opened its store at the Juanda International Airport, Surabaya and added one more city, which is Semarang. Starbucks opened its 90th store at Sogo Central Park. |
| 2011 | Starbucks opened its fifth drive-thru store at Rest Area KM 97. Batam became the 9th city for Starbucks with the store located at Mega Mall Batam and then followed by Makassar as the 10th city with the first store located at Mall Ratu Indah. Starbucks opened the 100th store at the University of Indonesia and opened the 111th store on 11-11-11 at UOB Plaza, Jakarta |
| 2012 | Starbucks entered its 11th city with the opening of Starbucks Solo Paragon in Solo and then followed by the 12th city with the first store in Palembang at the Palembang Indah Mall |
Where is the Main Office for Starbucks in Indonesia?

We call our head office the Support Center because it is where we work to assist the stores do their job effectively.
If you have some comments you would like to share with us or have an inquiry, please find our address, phone number & e-mail address on the Customer Service page.

Check the Store Locator to find your nearest Starbucks store.